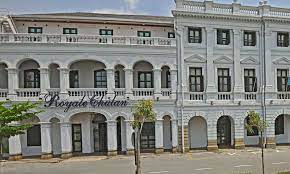 With no end in sight of the Covid-19 pandemic, the hospitality industry is among the hardest hit.
With no means of any revenue except takeaways, several of them have decided to transform into a low risk Covid-19 treatment centre. The latest being the Royale Chulan Penang.
"Effective September 2, 2021, the Royal Chulan Penang will transform into a low risk Covid-19 treatment centre (PKRC).
"This transformation provides low-risk Covid-19 patients with another self-paid quarantine option," said Penang State Executive Councillor for Tourism and Creative Economy, Yeoh Soon Hin in a press statement.
He added that prior to this transformation, the hotel operated as a quarantine hotel to house workers from factories. However, the surge of Covid-19 cases within the state requires the urgent establishment of an additional PKRC.
Yeoh, who is also the chairman of Penang Centre of Medical Tourism (PMED) said that Royal Chulan Penang is the second hotel within the state to transform into a PKRC, other than Vouk Hotel Suites.
"We have been receiving overwhelming calls from Covid-19 patients who were concerned that they may infect colleagues or family members while undergoing self-quarantine at home," he added.
Yeoh explained that the hotel-turned PKRCs are equipped with 24 hours medical assistance to accommodate medical attention of the patients.
Low risk patients who are interested to undergo their self quarantine in Royal Chulan Penang can visit MySafeQ for application or call Penang State Health Department at 04-217 5100 to arrange for self-quarantine in Vouk Hotel Suites.