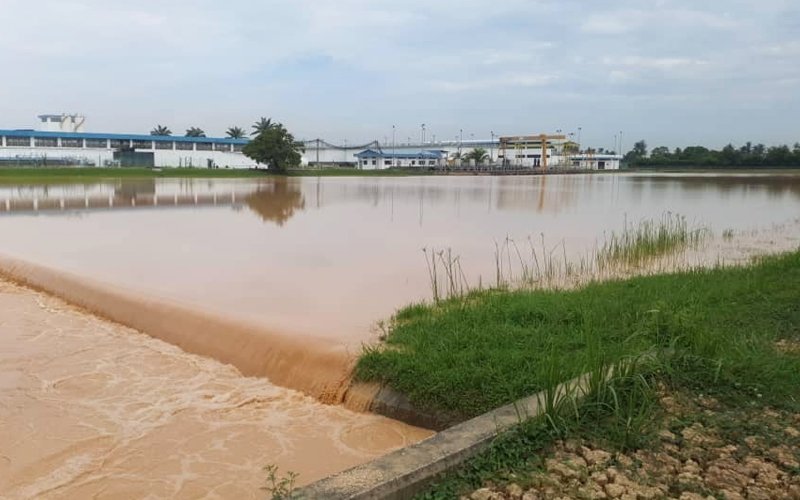 Human beings have been going to the Moon and even probing the planet Mars in search of water.
If there is no water, there is no life, and for life to propagate, we need water.
In this context, the predicament of the Penang state comes into mind as the state grapples with the current water supply shortage.
It is mainly due to the Sungai Dua treatment plant being inundated with muddy and murky flood water from the Sungai Muda river collected at the Sungai Dua Water Treatment Plant.
Penang's water supply interruption this time around is also attributed to the serious flash floods in Baling, Kedah.
This is not the first time that Penang has to face some sort of water disruption and its dire consequences.
Of late, the Kedah state government had also threatened to cut off the raw water supplies collected from Sungai Muda.
To make matters worse for Penang, 80 percent of the raw water for the treatment plant comes from the Sungai Muda Treatment Plant.
The on-going rhetoric between the two state leaders is akin to some "neighbourly squabbles" but in fact, more is at stake – basic human need, livelihood, agriculture, businesses, industries, investors and more.
Prior to this, Perak has also refused to supply Penang water, citing that it needed the water for its people, whereas expert findings show that the great Sungai Perak had more than enough to meet the needs of the Perak population.
What all of this says is that being a good neighbour does not help much either.
Penang Chief Minister, YAB Chow Kon Yeow had raised the matter of the people of Penang and more importantly the billion ringgit industries that are contributing to the national gross domestic product (GDP).
It is also important to note here that Penang recorded a RM76.2 billion investment last year and is also on track to reach such heights this year too. (Pandemic or no pandemic, industries and business is still going strong here).
"We need a policy decision from the federal government to handle the problem which will stunt growth in Penang, Kedah and north Perak.
"I urge the federal government to immediately approve a water pipeline from Perak to a river close to its northern border in order to ensure water security for the state and its neighbours," Chow was quoted as saying in FMT
So, what is the plan to move forward ?
While waiting for the federal government to act, the Desalination plant may be the answer for the long term.
For the uninitiated, desalination is the process of removing salt from sea water for general use and consumption of humans.
"Desalination is a process that takes away mineral components from saline water. More generally, desalination refers to the removal of salts and minerals from a target substance, as in soil desalination which is an issue for agriculture. Saltwater (especially sea water) is desalinated to produce water suitable for human consumption or irrigation.
"Most of the modern interest in desalination is focused on cost-effective provision of fresh water for human use', (source Wikipedia)
Yes, some may argue that the desalination plant has a high investment cost but there seems to be not much options either.
Well, we may just have to invest from now on so that the future generation and also the industries can keep going and prosper.
A quick check on the internet shows that some 120 countries around the world have desalination plants.
Among them are Saudi Arabia, Oman, United Arab Emirates, Spain, Cyprus, Malta, Gibraltar, Cape Verde, Portugal, Greece, Italy, India, China, Japan, Australia and even our neighbour Singapore.
Recent technological advances in this field shows that there are even mobile seawater treatment plants that are also at our disposal.
Then, there is also the fact that the first establishment of a seawater desalination plant in Malaysia can be found in Bachok, Kelantan, which began operations in April 2018.
What more, this "new" industry may also offer new investment and employment opportunities for locals in the state.
So, over to you Perbadanan Bekalan Air Pulau Pinang (PBA) aka Penang Water Supply Corporation to explore.