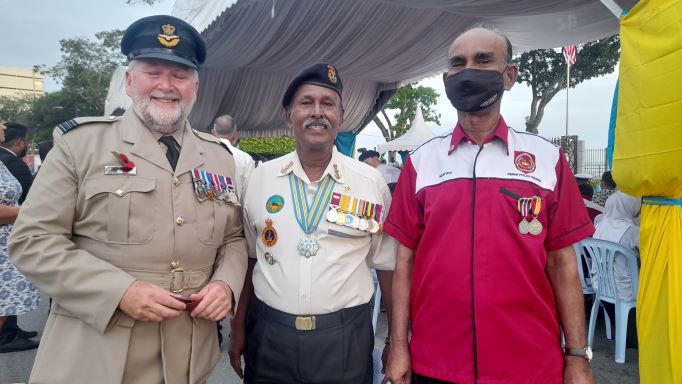 In memory of the fallen heroes from World War 1, World War 11 and the Emergency, a wreath laying ceremony was held at the cenotaph in Esplanade yesterday (Nov 27, 2022).
Penang Chief Minister YAB Chow Kon Yeow was among the various representatives from countries like Great Britain, Australia, New Zealand, Canada, India, Nepal and New Zealand.
Among them was His Excellency Dr Justin Lee, High Commissioner of Australia to Malaysia, HE Mr Wayne Robson, High Commissioner of Canada to Malaysia, HE Mr Dilli Raj Paudell, Ambassador of Nepal to Malaysia, Commander Lui Poh Hin (TLDMVR)
Commanding Officer of KD Sri Pinang, Defence Advisors of the High Commissions of Great Britain, Australia, New Zealand, Canada and India
Also present was Major Doug Webster and Mrs Webster, representatives of the Commander of Integrated Area Defence System Butterworth, Wing Commander Darren Prior, Commanding Officer 19 Squadron, Royal Australian Air Force, Lieutenant Colonel Pete Van De Peer, Commanding Officer 2nd/30th Training Group, Royal Australian Army, retired officers and war veterans. In all, some 300 guests gathered for the ceremony.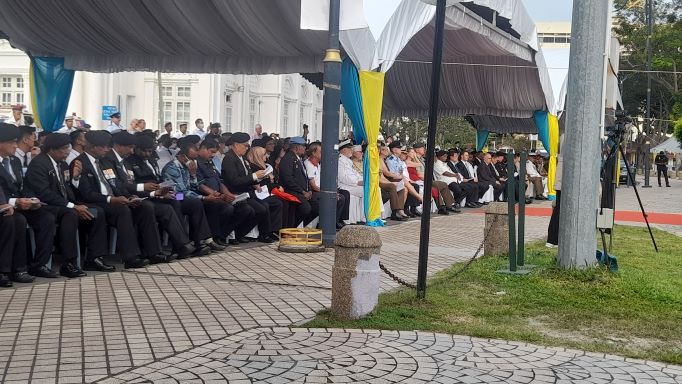 The ceremony has been held for the past 63-years without fail except during the MCO.
The gathering was organised by  Persatuan Veteran Pulau Pinang led by Major Siva Rajan and his team.
In his address, Chow, extended his sincere gratitude to Persatuan Veteran Keselamatan Pulau Pinang, or commonly known as The Penang Veterans, for organising the Annual Remembrance Day Ceremony to Remember and Honor the Fallen Heroes at the cenotaph Esplanade.
"It is a great honour and privilege to be given this opportunity to attend and address all of the distinguished guests here, especially the war veterans, armed forces personnel, and most importantly, the families of the Fallen Heroes.
"I am aware that today we are 104 years since the end of World War 1, 77 years since the end of World War 2 and 63 years since the end of the Malayan Emergency. We
recognise that these military conflicts brought us nothing but harm.
"The wars resulted in the unwarranted death or injury of human life as well as the deterioration of the economy, prosperity, and way of life. As we move forward, I strongly believe that the responsibility has now been passed to each and every one of us to collectively maintain this peace.
"More than ever, we must unite to resist divisive elements, whether they be within the community, state, country, or even globally.
"Penang, as a peace-loving state, will continue its tireless efforts to uphold and ensure that peace reigns supreme," said Chow in his address.
VIP guests later placed wreaths at the cenotaph to mark the Remembrance Day Ceremony 2022.