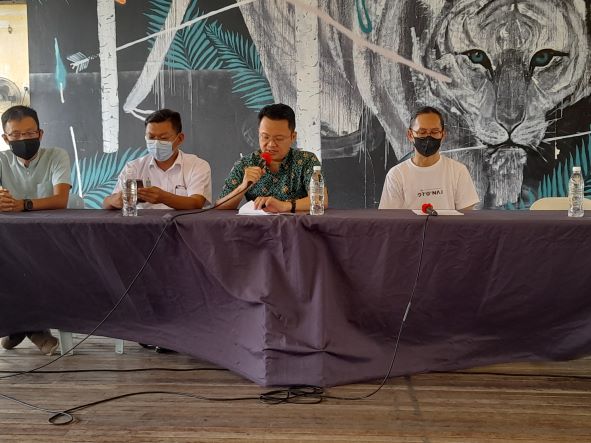 By V. Sivaji
Penang hopes to go big on music festivals and draw top talents to the island.
This is following the inaugural "Uah Music Festival 2022" which will be held at the Hin Bus Depot on Sept 16, 2022 to showcase 25 bands and performers.
Present to launch the event was State Exco for Tourism and Creative Economy YB Yeoh Soon Hin, along with state assemblyman for Komtar, Teh Lai Heng and event chairperson, Ang Eng Bok.
The performance will start from 4pm till 11pm offering a diverse genre of music.
They will perform sounds from post-rock to acoustic folk with 13 Penang-based bands, eight from neighbouring states, two from Indonesia and another two from Taiwan.
"There is no doubt that music festivals can become great contributors to the tourism industry industry by increasing the flow of visitors and offering unique experiences for the participants.
"Previously, my office had the intention to bring the world famous Andrea Bocelli to our state. Music festivals are an effective catalyst for the tourism industry to develop.
"For instance, Coachella is one of the world's most famous music festivals of the year happening in California. Other events like TomorrowLand, Afrochella and Glastonbury can attract people to travel to these music gatherings," said Yeoh.
 He also added that the music and creative industry can promote Penang to the global audience.
Meanwhile Ang added that Uah Music Festival 2022 aims to enthrall music lovers with a variety of bands from different genres, all of which brought together under a one-day festival brimming with virtuosic performances.
"There's a little bit of everything for everyone, and festival goers can expect to have their musical senses tantalized by the end of Uah Music Festival's 8 hour run-time. With the 25 festival headliners, this is one homegrown festival that should be experienced first hand," he added.
Among the performers are Buddha Beat (PG), Airliftz (KL), One Morr Time (PG), littlefingers (ID), Isaac Ho (PG), Zoomies (TW), Kamal Sabran (PG), Chirs M. Yong (KL), Anak Borneo (Sarawak), Dabangni Band (TW), Zero (PG), SICK (PG), Raggy Singh (PG), Dua Sekawan (KL), DJ Wei (KL), Logic Lost (ID), Nick & Friends (East Malaysia), GAND (PG), Kozzy (PG), Chew Tat Ban (PG), Borhan Bvstamom (ID), D & the Compass (KL), Radical 140 (PG), Aki feat. Gideon Alu8khan Chen (KL) and Zam Vigil (PG).
Registration for vendors is still open. Interested vendors may check their social media for registration link.
Early Bird Tickets are on sales for RM80, door sales will be RM120, available for purchase via https://uahmusic.com/uah-music-festival-2022/
For more information, visit Instagram @uahfest or Facebook Uah Music Culture, or whatsapp Ms Ong at 016-4751866.
Uah Music Festival 2022 is organized by Uah Music Culture Penang.
Ends