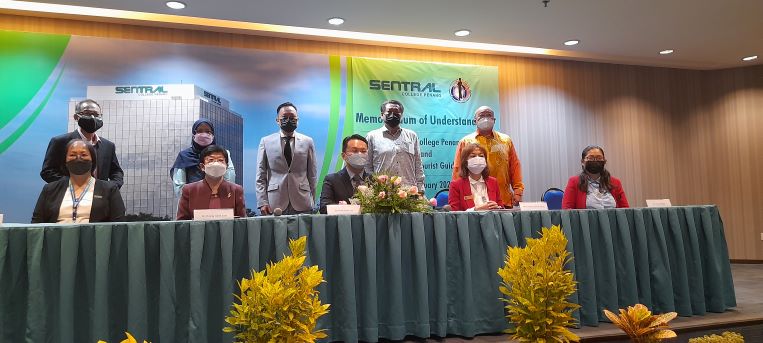 By V. Sivaji
In a bid to upgrade, improve and churn out specialist tour guides, the Sentral Education Sdn Bhd and the Malaysian Women Tourist Guides Association (MWTGA) signed a memorandum of understanding (MOU) to achieve this.
Present to witness the signing ceremony was Penang State Exco for Tourism and Creative Economy, YB Yeoh Soon Hin accompanied by the Penang state director for the Ministry of Tourism, Arts, Culture (MOTAC), Jonathan Freddy Bagang, Penang Global Tourism (PGT) chief executive officer, Ooi Chok Yan and StudyPENANG Executive Director, Khoo Boo Lim.
Also present was Dr Chiang Geok Lian, CEO/Principal of Sentral College Penang and Erina Loo, chairwoman of MWTGA.
"This alliance will surely benefit the tourism industry to produce specialist tour guides who are knowledgeable in heritage, eco-tourism and languages.
"Despite the setback by the Omnicron virus, we must move forward to focus on the recovery, reset mode.
"Now it is about mitigation of the crisis," said Yeoh in his address.
Meanwhile, Dr Chiang added that the tourism sector was the hardest hit by the pandemic but we will have to prepare for the future.
Loo in her speech highlighted that they were formed in 2007 and have some 500 members.
"We hope to provide job opportunities and contribute to the overall economic growth of the country," she added.