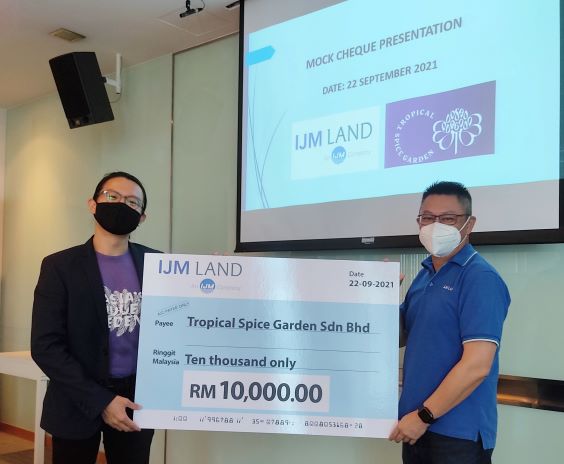 By V. Sivaji
Responding to the SOS call by the Tropical Spice Garden (TSG) lately, IJM Land came forward to award RM10,000 to the renowned green lung on the island.
Also known as "Asia's Hidden Eden", TSG is a place where nature meets culture.
This is evident with a range of activities carried out in the calming and healing surroundings of a diverse range of flora such as guided walks, cooking classes, dance classes, mindfulness walking and other educational and wellness-focused activities; which brings communities together, inspiring one another and building resilience.
TSG is a nature abode and an exquisite ecosystem with five landscaped acres of garden where more than 500 living specimens of lush and exotic flora from around the world thrive, and where a bio-diverse living museum of spices and other tropical plants exist.
Prior to the pandemic, a large portion of TSG's customers comprise of both international and local communities thus, forcing the establishment to lose its major source of income under the various phases of movement control order (MCO) imposed in our country, as measures to contain the spread of Covid-19.
This has resulted in TSG making a plea in social media to highlight its state of facing imminent closure.
The pandemic has upended the lives of people around the world, particularly businesses and communities in sectors which are largely closed.
They have to endure the adverse impact of being in and out of operating mode and Tropical Spice Garden (TSG) is one of such establishments.
In line with IJM group's commitment towards sustainability, IJM Land (its property division) in Penang responded to TSG's plea by contributing financial aid to help TSG stay afloat.
The aid is a two-year sponsorship amounting RM10,000.00 each for the year 2021 and 2022.
On hand to present the mock cheque was Dato' Toh Chin Leong, Senior General Manager, Northern Region of IJM Land Penang presented a mock cheque to Jonathan Lim, Chief Storyteller of TSG at Menara IJM Land recently.
TSG also serves as a community centre by its range of activities carried out where people of different backgrounds and localities come together where they are empowered and their voices are amplified; as TSG aims to preserve, educate and inspire communities.
"This sponsorship will see possible future collaboration with TSG whereby we might include an area in our future projects to have a spice garden which will be beneficial to our customers and their families, particularly the younger generation, as this green initiative serves to educate, involve and promote the cultivation of green living and sustainability." said Dato Toh Chin Leong, Senior General Manager, Northern Region of IJM Land
Kudos to IJM Land for their commendable corporate social responsibility (CSR) project despite the current trying times and the ongoing pandemic.