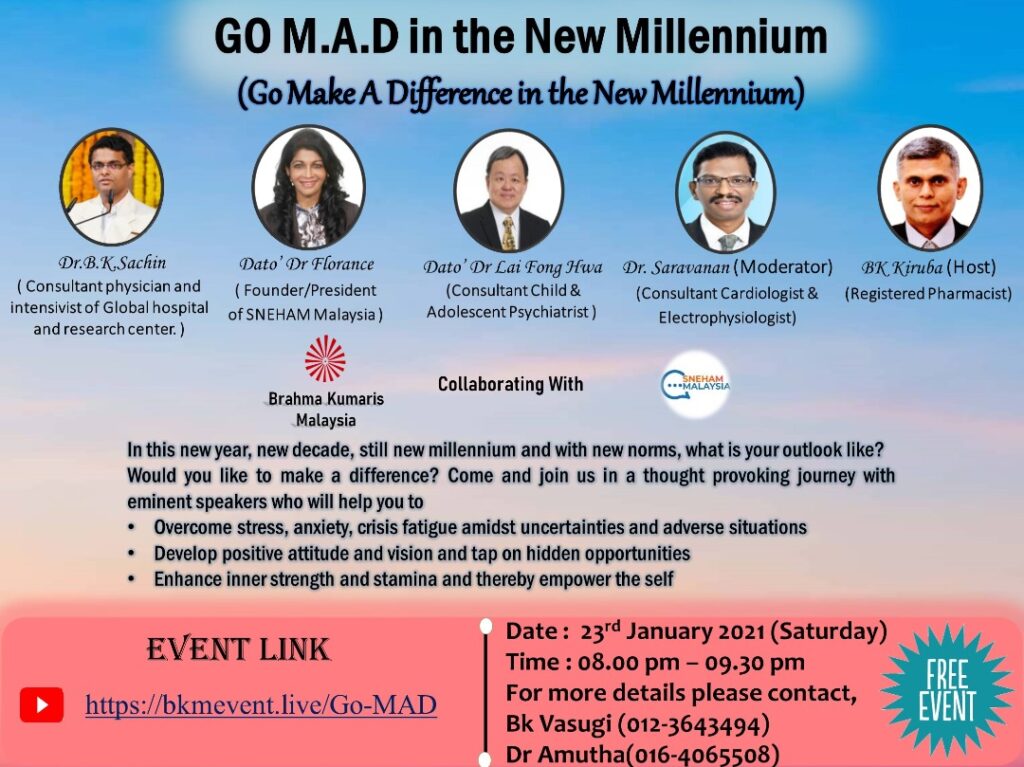 The on-going Covid-19 pandemic which has led to the lockdown since March last year, is not only causing catastrophic health issues and fatalities.
There are also added side effects like stress, anxiety and other psychological problems.
The Brahma Kumaris Malaysia in collaboration with SNEHAM Malaysia is organising an international zoom conference to help to face the Covid-19 pandemic.
The international dialogue and zoom conference and dialogue is titled "Go Make A Difference In The New Millenium".
The event is scheduled to be held today, Saturday, January 23, 2021 at 8pm (Malaysian time), 8pm Perth, Australia, 12pm in London and 5.30pm in India.
Prominent international medical professionals sharing the platform are Dr B. K. Sachin, a consultant physician and intensive of Global Hospital and Research Centre, India along with Datuk Dr Florence, founder and president of SNEHAM Malaysia, Datuk Dr Lai Fong Hwa, consultant Child and Adolescent Psychiatrist.
Dr Saravan, a Consultant Cardiologist and Electrophysiologist will be the moderator and B.K. Kiruba, a registered pharmacist will be hosting the event.
World Humanity Drive, Malaysian Chapter chairman Professor Datuk Dr G.P. Doraisamy is coordinating to organise the event.
The event is organised by both the non-governmental organisations and is aimed to instil and develop positive mental attitude and vision and to tap hidden opportunities among the young generation.
It is also aimed to help to overcome stress anxiety, crisis, fatigue amidst uncertainties and adverse situations, especially to face the Covid-19 pandemic.
It is also aimed to enhance inner strength and stamina and thereby carve out one's powerful personality.
For further details please call BK Vasugi at 012-3643494 or Dr Amutha at 016-4065508. Zoom link as below.