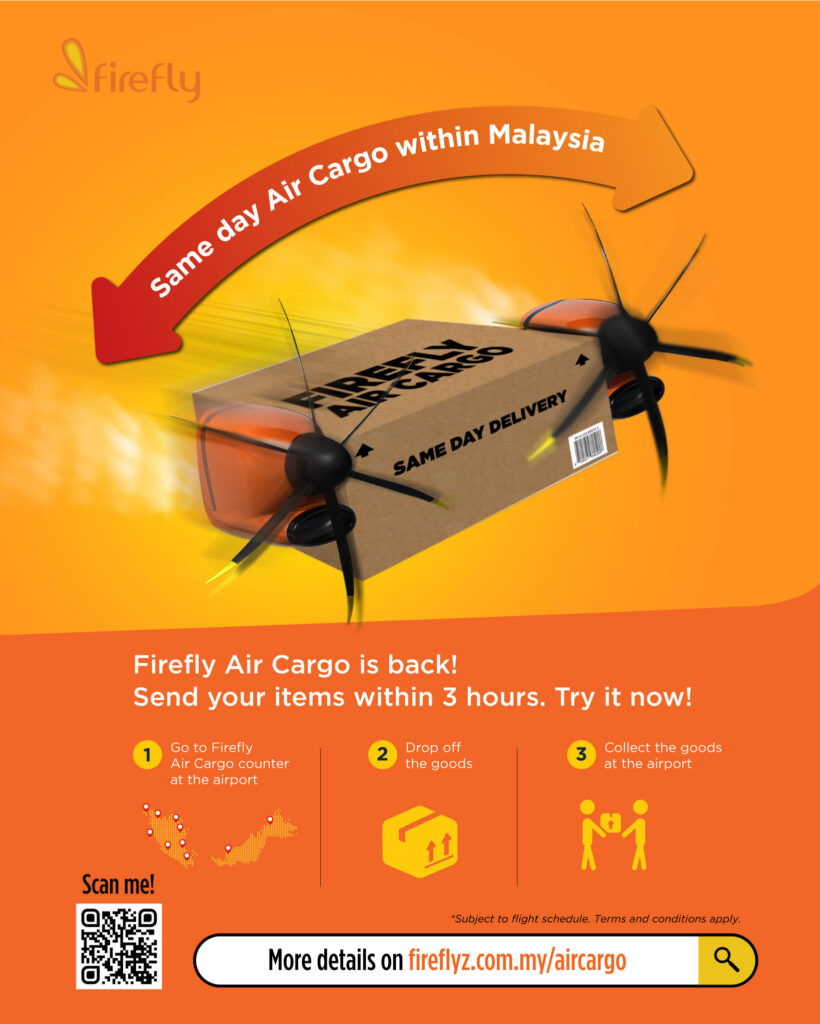 The sudden surge in demand to transport parcels across Malaysia especially due to the on-going Covid-19 pandemic, Firefly Airlines has introduced its very own Firefly Air Cargo. 
Having launched the airport-to-airport delivery service earlier this month, the airline is confident that it will be advantageous to business owners, online sellers and many others in times of limited movement due to the pandemic. 
This much sought-after service provides a fast, secure and economical solution. The airline is now offering a 20% discount from March 15-29 to provide relief to customers looking to save more.
"We understand that speed and efficiency is what matters these days in the competitive business environment. Most businesses quite quickly changed their business models from offline to online since the start of the pandemic. 
"The number of businesses which are born online every day is staggering and we want to be able to help keep these businesses moving", said Firefly Airlines Chief Executive Officer, Philip See.
He further added that this service will also be beneficial to family members living or working in other states. As simple as a healthy and delicious home cooked meal or a surprise birthday present can now be delivered to loved ones to the airport of their choice within three (3) hours. We have a critical role to play in keeping goods moving during these unprecedented times.
The journey to send out parcels through Firefly Air Cargo is simple. Customers drop off their parcel at Firefly airport counter, choose their destination and flight time, ad fill up the consignment form. Alternatively, to save time, customers can download the consignment form at www.fireflyz.com.my/aircargo. 
The parcel will then proceed for security clearance and proceed for delivery. The receiving party can collect it at the designated airport on the same day. Parcels are to be collected by the receiver within 24 hours from arrival time as no storage facility is provided by the airline.
Firefly Air Cargo counter is available at Sultan Abdul Aziz Shah Airport, Subang (SZB), Penang International Airport, Bayan Lepas (PEN), Sultan Mahmud Airport, Kuala Terengganu (TGG), Sultan Ismail Petra Airport, Kota Bharu (KBR), Sultan Abdul Halim Airport, Alor Setar (AOR) and Langkawi International Airport, Langkawi (LGK). 
Firefly Airlines also plans to provide this delivery service at more airports at a later stage.