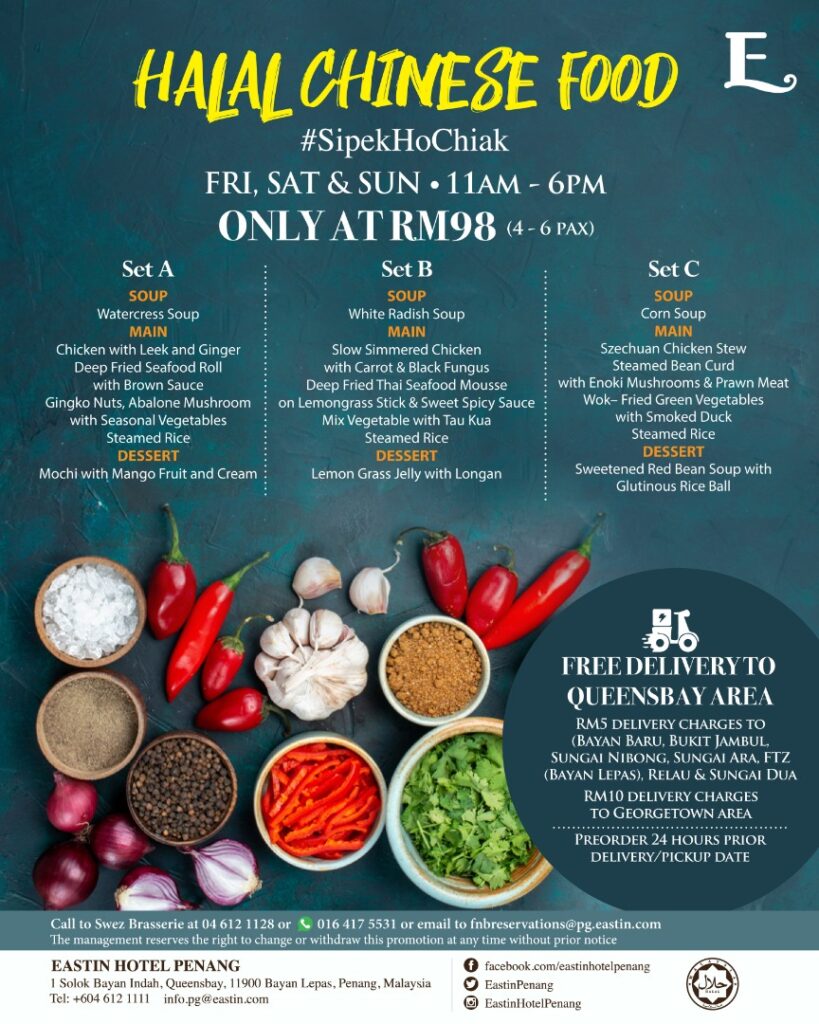 A brand new menu has been created to suit a weekend family and friends gathering by the Eastin Hotel Penang.
Available only on Fridays, Saturdays and Sundays the new halal Chinese menu features three different sets available from 11am to 6pm.
Set A consists of watercress soup, main course (chicken with leek and ginger, deep fried seafood roll with brown sauce, gingko nuts, abalone mushroom with seasonal vegetables and steamed rice) and desserts.
Set B offers white radish soup, slow simmered chicken with carrot and black fungus,deep fried Thai seafood mousse on lemongrass stick and sweet spicy sauce, mixed vegetables with tau kua and steamed rice.  
Finally, Set C offers corn soup, Szechuan chicken stew, steamed bean curd with Enoki mushroom and prawn meat, wok-fried green vegetables with smoked duck and sweetened red bean soup with glutinous rice balls for desserts.
The package priced at RM98 each can cater for a group of four to six people for lunch or dinner sitting.
A pre-order of 24 hours is required prior to delivery or pick -up. Call 04- Call 04-612-1128 or Whatsapp 016-417-5531.    Meanwhile, their RM5 lunch has also been upgraded with a new menu.
This time around, they are offering Nasi Minyak + Ayam Masak Hitam (Monday), Nasi Lemak + Ayam Rendang + Telur Rebus (Tuesday), Nasi Hujan Panas + Ayam Masak Madu Pandan (Wed), Nasi Briyani Ayam + Acar Timun (Thurs) and Nasi Tomato with Ayam Masak Merah + Acar Timun (Friday).
The CSR gesture by Eastin Hotel should be highly commended as the pricing is even cheaper than the normal restaurants around.
As for the up-coming Christmas celebrations, Eastin Hotel Penang offers Christmas eve buffet dinner at RM138 nett and a buffet lunch on Christmas Day at RM98nett.
To avoid disappointment, pre-booking is advised.   
Orders can be made from 11am to 5pm a day earlier. Call 04-612-1128 or Whatsapp 016-417-5531.

Ends