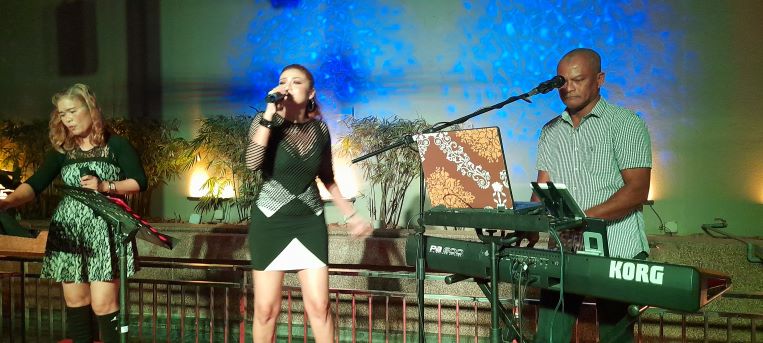 By V. Sivaji
The Tree@III at the Light Hotel Penang features a 3-piece band, "Diana and Friends" every Thursday, Friday and Saturday from 8.30pm.
Leading the frontline is Diana herself who hails from Bukit Mertajam accompanied by Rosie who comes from Tanjung Malim, Perak. Both singers have been in the music industry for more than 10 years.
Backing them on the keyboards is Noor Salihin Hashim who is also a veteran musician and singer.
He had worked with full bands in Kuala Lumpur, Malacca  and Penang in hotels like the Bayview Hotel Georgetown and the Evergreen laurel Hotel. 
"I actually worked as a fireman for 28 years and performed music at night. I took voluntary retirement from being a firefighter and now am fully focused on music now.
'During the MCO I performed solo via FB and managed to get some funds from the support from friends and relatives," said Noor Salihin.
Meanwhile, Diana is the live wire of the trio rendering numbers from retro, chart toppers and current hits.
"We always try to entertain all of the song requests from guests and accommodate everyone. I also worked with showbands in Kuala Lumpur, Kuching, Johor and Malacca," said Diana.
As for Rosie, she added that it was great to be back on stage after almost two years of not singing live.
"It is encouraging that the music scene is coming back lately," she said. 
Offering cozy seating areas, one can choose to dine at the restaurant proper or the open areas overlooking the swimming pools and Seberang Jaya.
The new outlet located on the third floor of the hotel showcases a walk-in wine cellar showcasing some 300 wine choices, which can make you spoilt for choice.
The gastrobar also offers diners with an impressive menu of local and Western cuisine.