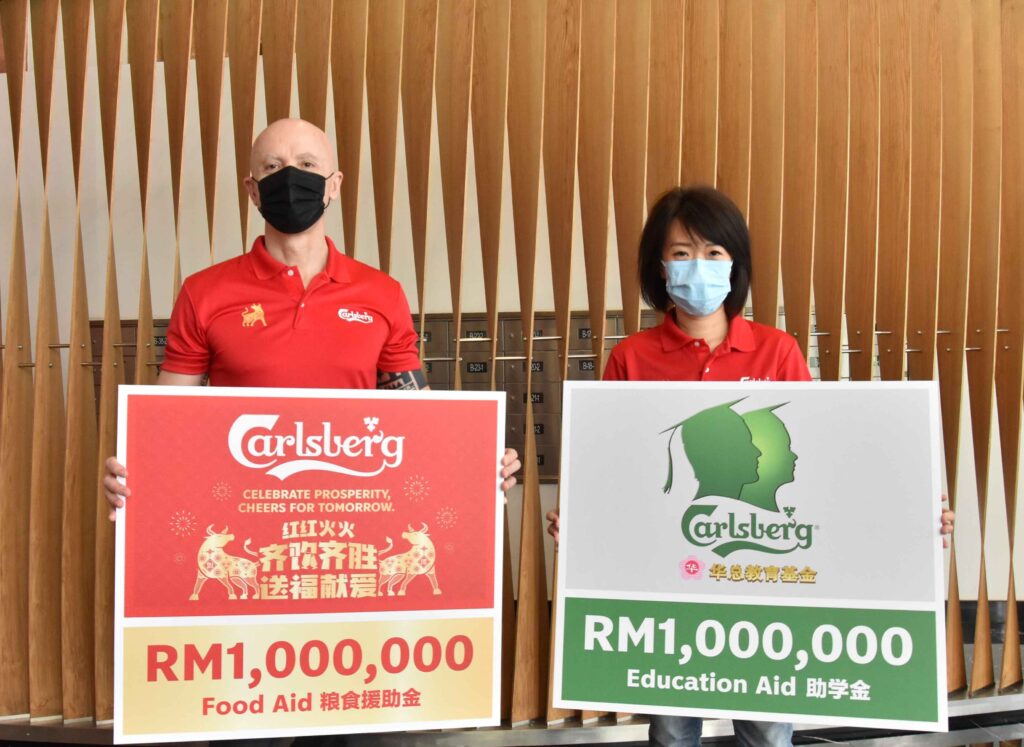 Being a shining example as a caring corporate citizen, Carlsberg Malaysia has pledged RM1 million for food aid and another RM1 million for those in need of financial help to pursue their education.
This is also in line with the Chinese New Year tradition of gift giving tradition as a form of extending good luck and best wishes in the coming year.
Carlsberg pledges to give RM1 million via its 'Celebrate Prosperity, Cheers For Tomorrow' food aid campaign and extends another RM1 million via its Carlsberg-Huazong Education Fund to underprivileged Malaysians to weather current challenging times this festive season.
"We understand that many Malaysians are affected by the COVID-19 pandemic and the unfortunate floods in several states. As we remain hopeful for the new year, we are sensitive to the current sentiment and subsequently rolled-out Carlsberg's 'Celebrate Prosperity, Cheers
"For Tomorrow' food aid campaign. We hope that with RM1 million worth of food essentials to 2,000 families, whose livelihoods have been impacted, can rejoice while keeping the celebrations moderate", said Stefano Clini, managing director of Carlsberg Malaysia in a press statement.
Carlsberg joined forces with theSun, Star Foundation, Yayasan Nanyang Press, The Borneo Post and See Hua Daily News to reach 2,000 underprivileged Malaysians, regardless of race and creed across the nation.
Those who are affected by the pandemic may apply with the respective media foundations or corporations. Selection priority goes to applicants of the following categories: orphans, with single parent, and with disabled (OKU) family member; or individuals from B40.
Carlsberg's move to alleviate some of the difficulties faced by the B40 group is indeed commendable. 
Believing that every Malaysians should have equal access to education, Carlsberg Malaysia through its partnership with The Federation of Chinese Associations Malaysia (Huazong) of the Carlsberg-Huazong Education Fund (the Fund), will allocate RM1 million in education aid for 333 tertiary students as a one-off donation. 
Open to all Malaysian citizens currently pursuing tertiary education, applicants may apply via Huazong at www.huazong.my from Feb 1 to 12, 2021. 
The Fund will also consider waiving interest-free study loan repayment for
beneficiaries who are facing financial difficulties.
In addition, Carlsberg will be gifting 1-year supply of Carlsberg beers in its quest of 'Cheers Together' through its 2021 CNY campaign. Consumers can nominate their family and friends via Carlsberg's social media pages. 
This CNY gift will bring smiles to their families, by sharing their stories with us on social media. 
Nominations start from 22 January until 29 January at
www.facebook.com/CarlsbergMY and www.instagram.com/CarlsbergMY.