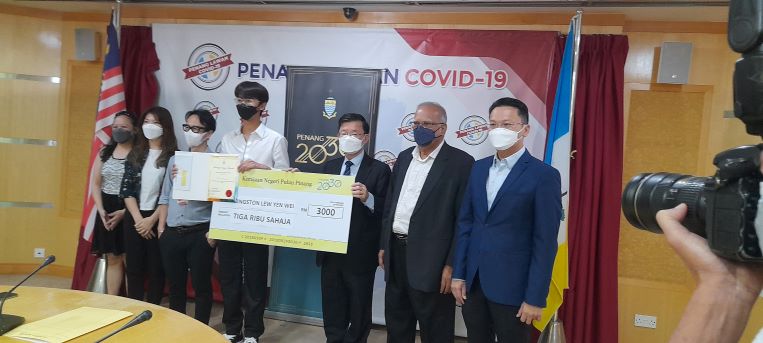 Brilliant student, Kingston Lew Yen Wei 18, received encouragement and moral support from the Penang state government with a contribution of RM3,000 towards his further studies.
Lew has received admission into the prestigious US-based Massachusetts Institute of Technology (MIT) to further continue his education.
MIT has been voted the best university in the world for the 11th consecutive year and is extremely competitive to get admission.
Lew will take up a programme in Computer Science, Economy, Data Science and Business Analysis at MIT.
He is also active in co-curricular activities and represented Malaysia in the International Baccalaureate Diploma Program at the United World College on a Davis scholarship.
The former SM Chung Ling (Private) student was accompanied by his parents, Lew Park Leong and mother Chong Yueh Chin at the presentation ceremony in Komtar.
Present was Penang Chief Minister YAB Chow Kon Yeow, Penang Deputy Chief Minister 11, Prof P. Ramasamy and State Exco for Tourism and Creative Economy, YB Yeoh Soon Hin.
"We hope that our contribution will motivate Kingston to greater heights and he will come back to serve the state. We wish you all the best in your further studies," said Chow.
In response, Kingston expressed his appreciation and gratitude to the Chief Minister and the state for their kind contribution.
"I would like to thank you for the encouragement and support. I have worked hard to get this admission to MIT and I am very happy to continue my studies there," said Kingston.
He also added that many notable leaders in the world have had their studies in MIT.