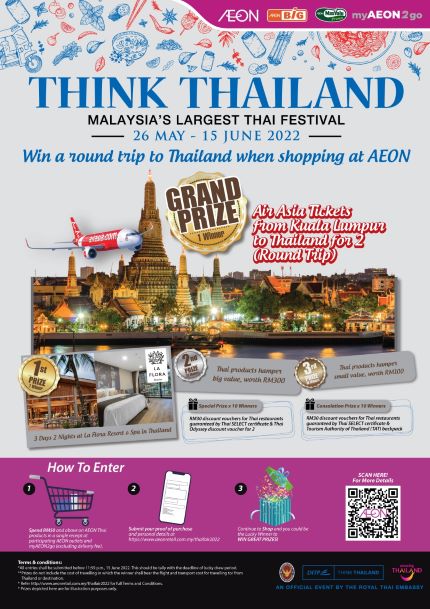 The on-going "THINK THAILAND" promotion saw retailer AEON Co (M) Bhd unveiling its own THINK THAILAND campaign throughout Malaysia from May 26 till June 15, 2022, at its 53 outlets consisting of 33 AEON Stores, 9 MaxValu and 11 AEON BIG stores throughout Malaysia.
The event is a collaboration between AEON and the Department of International Trade (DITP) and the Thai Embassy.
To mark the launching ceremony, a ribbon cutting ceremony was performed by Worawan Wanwill Minister Counsellor and DITP Director, Ms Low Ngai Yuen, AEON Group Chief Merchandising and marketing officer, Mrs Piyapin Niyomrerks, Royal Thai Embassy Minister and Deputy Chief of Mission and Ms Suhaily Abdul Rahman, AEON Head of General Merchandising Store Operation.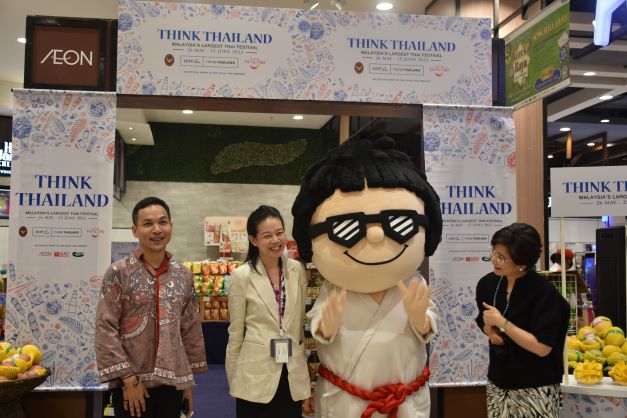 The major highlight of this campaign is the specially priced items, and new authentic Thai
products introduction specially brought in for this campaign.
Among the special priced products are Snack Brand: Bento, Tao Kae Noi, Lay's, Amae Me, Koh-Kae Peanuts, Pocky & Ladybird Seasoning Brand: Ayam Brand, Roi Thai, King Rice & Tae Pee Material Brand: Pama Brand, Serda & Jasmine Fresh: Thai Mango, Thai Guava, Thai Rambutan, Thai Lychee, Thai Petai, Thai Baby Corn & Thai Asparagus.
The new product introduction are Snack Brand: Vfoods, Jaxx, Bento, Makado Cold Beverage Brand: Tc Super & Taste Nirvana Fresh: Thai Red & Green Chili, Thai Ginger & Thai Enoki.
DITP Director, Worawan Wanwil praised AEON management for their business acumen and a strategic business plan. 
"AEON has been a very important strategic partner in this region. Even during the pandemic times, they have been very supportive in bringing in Thai products to add value to Malaysian consumers." said Worawan.
There are also specially prepared Thai cooking shows at 5 outlets from 3.00 pm to 4.30 pm on weekends at locations: AEON Puchong, AEON Shah Alam, AEON Bandar Utama, AEON Bukit Tinggi, and AEON Big Wangsa Maju.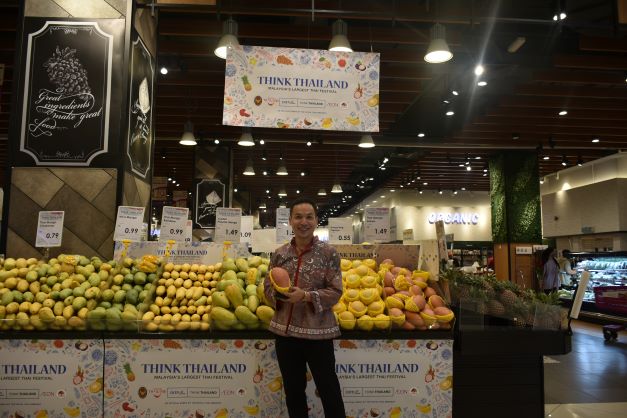 Shoppers are encouraged to visit these locations to get all the cooking tips on Thai cooking from their chefs.
Meanwhile, Thomas Tan, Senior Division Manager for Perishables commented:
"This is the 2nd time we are holding this event after a very successful try out last year. Although we were under movement restriction, that did not stop Thai food lovers from thronging AEON with the opportunity to savour various types of snacks, fruits, vegetables and other food products directly brought in from Thailand to satisfy their taste buds. This year, we are bringing in more assortments on top of the existing ones to further entice foodies all over the country and at the same time, giving lucky customers a chance to win a trip for two to Thailand.
"We are truly honoured to have been blessed with a strong relationship with Thai manufacturers, farming communities, exporters and Thai Embassy for us to have this wonderful chance to showcase how diverse the Thai products are and are well-received by our local community of all walks of life." he said.
The attractive prizes which await you for a RM50 spend in a single receipt are –
* Air Asia ticket, 2 seats round trip, (Malaysia – Thailand) x1 prize
* Hotel room package in Thailand (1 room 2 night) x1 prize
* Thai Odyssey Voucher x 10 prizes
* Tourism Authority of Thailand (TAT) backpack x10 prizes
* Thai SELECT voucher x 20 prizes (Random) – Thai restaurants in Malaysia
* Hamper big value RM300 x 10 prizes
*Hamper small value RM50-100 x 30 prizes